The rooftop of the American Federal Bank home office in the heart of downtown Fargo is the new home for a Prairie Public broadcast antenna.
The Kilbourne Group, which is a partner in the development of the Block 9 project, across 5th Street North from American Federal Bank and Prairie Public, used a hydraulic crane to hoist the antenna to the top of American Federal's eight-story bank building.
Originating from its downtown Fargo location, next door to American Federal Bank, Prairie Public relays PBS and NPR programming to its statewide broadcast transmitter sites using a wireless point-to-point microwave system.
The system will be blocked by construction of the new 18-story, multi-use Block 9 tower.
Prairie Public selected the engineering solution that located one of its antennae on the American Federal Bank rooftop, providing a vantage point for the broadcaster's signals to clear the Block 9 construction. A second, 10-foot antenna will be placed on the Radisson Hotel rooftop, adjacent to Prairie Public on the south.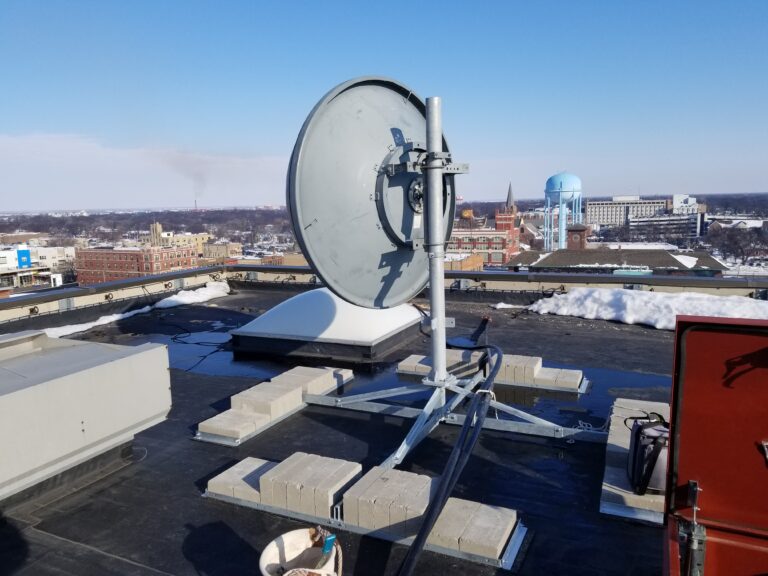 The Prairie Public aluminum and fiberglass antenna atop American Federal Bank weighs 150 pounds, is six feet in diameter, and is interconnected with two waveguide-type cables to the electronic equipment located in Prairie Public's building.
Prairie Public said it very much appreciates American Federal's generosity for providing the antenna space.