American Federal Bank broke ground September 10 on an expansion of its Hallock, Minnesota Sales Office.
The expansion on the north side of the existing building will almost double the size of the Hallock Sales Office and create a new exterior look to the building, illustrated in the architectural sketch below.
Changes include the addition of a pitched roof and brick-based columns, an updated front entrance, new drive-up equipment, drive-up ATM and night depository, enlarged parking lot and updated landscaping of the property.
Inside the refurbished bank, clients and employees will appreciate a new conference room, six Sales Banker offices and four Associate work areas for local customer service and support. Safe deposit boxes also will be added.
"Our expansion project underscores our commitment to Hallock, Kittson County and northwestern Minnesota where our clients live and work," said Hallock Market President Paul Craigmile. "A larger, more efficient building enhances our ability to serve our farm, business and retail clients, a hallmark of our organization since we were established in 1891 in the northern Red River Valley."
"Not only are we dedicated to our community and our customers, we believe in our employees who provide trusted advice and financial expertise through the relationships they build with our clients and the tailored solutions they develop to help our clients reach their goals," Craigmile said. "A professional work environment is important for recruiting and maintaining top talent in our community."
Attending the ground-breaking ceremony, shown in the photo above, are, front row from left, Ag and Business Banker Jon Swenson, Market President Paul Craigmile and Hallock Mayor Dave Treumer; and back row from left, Ag and Business Banking Specialist Jay Friedt, Associate Jolene Froese, Associate Trisha Docken, Associate Traci Lindgren and Associate Banker Melissa Casper.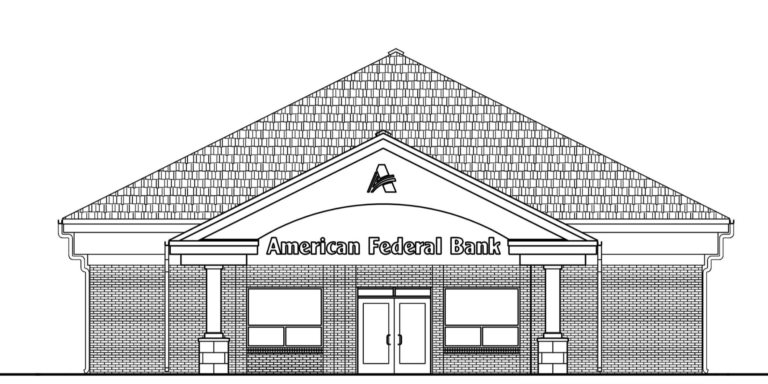 Local subcontractors and suppliers will be involved in a large share of the project. Community Contractors, Grand Forks, is general contractor for the building project.  ICON Architectural Group, Grand Forks, is the architect.
Following a merger with the Hallock Savings and Loan Association in 1976, a sales office was opened in Hallock in January of 1977. American Federal originally operated at 118 Second Street Southeast in Hallock. In June of 1979, American Federal finished construction of its new bank building at 157 South Second Street in Hallock, its home today.