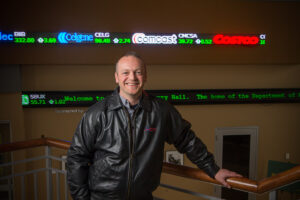 American Federal Personal Banker Chris Grettum has earned the designation of "Ace Sales Star."
American Federal Ace Sales Stars are recognized with a photo and written tribute which are framed and displayed at the bank's Home Office in Fargo.
Chris earned five Quarterly Sales Stars to receive the designation of "Ace Sales Star." He has further distinguished himself by earning an invitation to two Sales Star Retreats, American Federal's premier employee recognition event, and being named the 2016 "Top Associate Banker Sales Star."
Chris joined American Federal as a Personal Banker in 2013. His office is located at the bank's Moorhead Sales Office.
Chris has 10 years of experience in the consumer finance industry and four years' experience in branch management in Grand Forks and Fargo.
He is a graduate of the University of North Dakota in Grand Forks, where he earned a Bachelor of Arts Degree in Marketing.