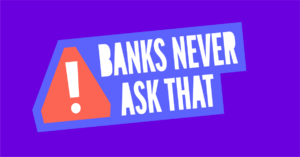 American Federal Bank has joined the American Bankers Association (ABA) and banks across the nation in launching an industry-wide campaign to educate consumers about the persistent threat of phishing scams during National Cybersecurity Awareness Month.
The Federal Trade Commission (FTC) estimates that consumers lost $1.9 billion to phishing schemes in 2019 and the ongoing Coronavirus pandemic has increased the threat.
To combat phishing, the ABA's "#BanksNeverAskThat" campaign uses humor and engaging print, digital and video content to empower consumers to identify bogus bank communications asking for sensitive information like their passwords and social security numbers. Because cybersecurity education and fraud awareness can often be dull and forgettable to some consumers, the campaign is designed to be bright and bold.
"This campaign is an effort by the banking industry to address a growing threat to our customers," said Kent Anderson, Chief Sales and Marketing Officer, American Federal Bank.
For more information about phishing scams and how to stop fraudsters in their tracks, visit www.BanksNeverAskThat.com.
ABA Sweepstakes**
National Cybersecurity Awareness Month is a collaborative effort between government and industry that raises nationwide awareness of cyber crimes and prevention every October. Because it coincides with the launch of #BanksNeverAskThat, the ABA is celebrating with a cybersecurity-month sweepstakes.
Every week during the month of October, site visitors can test their scam savviness by taking the #BanksNeverAskThat Quiz, then sharing it on Twitter for the chance to win one of 15 gift cards. All entrants in ABA's sweepstakes also will be eligible to win the $1,000 grand prize at the end of the month.
Take the #BanksNeverAskThat Quiz during the month of October at www.BanksNeverAskThat.com.
PRO Tips
The #BanksNeverAskThat campaign focuses on phishing scams in the form of emails, texts and phone calls from cyber criminals pretending to be a bank.
Here are some consumer tips that highlight common phishing schemes:
Be wary of suspicious links and attachments. Banks will never ask you to sign in, or give personal info via email or text message. Bank will never send you a text or email that asks you to click a link, open an attachment or provide personal information. Links in phishing messages direct you to fraudulent websites. Do not reply to the sender. Ignore any requests from the sender and do not call any phone numbers provided in the message. Delete the text and trash the email. Do not download any attachments in the message. Attachments may contain malware such as viruses, worms or spyware.
Beware of scare tactics. Scam emails, texts and calls may pressure, or even threaten you, to respond. Just ignore it, and call your bank directly.
Protect your confidential information. Your bank will never ask you to provide confidential information (your account number, social security number, date of birth, name, address, password, etc.) in emails or text messages. Your bank will only ask for confidential information to verify your identity when you call them.
Be leery of callers. If you don't expect a call from a bank, it could be a scam. Be aware that area codes can be misleading. If your Caller ID displays a local area code, this does not guarantee that the caller is local. If you think a call, email or text might be a scam, play it safe. Don't provide any personal information. You may be asked to verify confidential information, if you call your bank, but never the other way around. If you receive an incoming call from someone claiming to be your bank, the safest thing you can do is hang up and call your bank yourself. Never respond to the caller's requests. Banks and legitimate companies will never call you to request your personal information. Never give personal information to an incoming caller.
Watch for misspelled words. Fraudulent texts and emails often have typos or improper grammar.
Report it. If you feel you have been the victim of a scam and may have provided personal or important financial information, contact your bank immediately. Be sure to include any relevant details, such as whether the suspicious caller attempted to impersonate your bank and whether any personal or financial information was provided to the suspicious caller. Help fight scammers by also reporting them to officials. Report a phishing attack to the FTC at ftc.gov/complaint.
_____
** Drawing prizes given in form of prepaid card. Terms and conditions apply. Void where prohibited. See official rules at www.BanksNeverAsThat.com.